The Biosciences Knowledge Transfer Network (KTN) proudly brings you two events aimed at enhancing your networking experience and enabling you to find the people and funding you need to develop your business and/or R&D.
Registration is CLOSED. If you wish to inquire about availability, please email events@biosciencektn.com
The venue for both of these events is
The Radisson Blu Hotel
301 Argyle Street
Glasgow, G2 8DL
A discounted rate of £50 is available to attend both events (£90 with conference dinner).
For a discounted rate on accommodation click this link.
---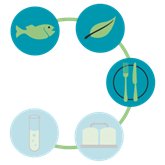 Tuesday 10th September 2013
A healthy and sustainable aquatic supply chain
Objective: to bring together a range of organisations from across the aquatic supply chain to increase understanding of the issues from different perspectives and to identify common themes and opportunities for future collaborative work.
Aimed at: Businesses and academia working in the aquatic supply chain, including:
Fish and shellfish breeders
Feed companies including plant breeders
Algae producers
Fish and shellfish processors
Food retailers
Technology companies e.g. for traceability
Cost: £30; with conference dinner, £70
---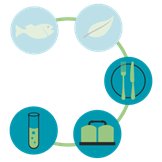 Wednesday 11th September
Funding opportunities to transform food waste into higher value products
A partnering event to bring together the food processing industry with technology providers to find solutions to reduce waste and add value.
Overview: This event will provide practical solutions to reducing waste in the food processing industry towards development of higher value co-products. Hear about case studies and funding opportunities in this field. During registration, you will be able to submit a question (anonymously) to our panel who can advise on any issues relating to developing higher value side streams.
Aimed at: Businesses and academia interested in adding value to food processing streams
Fish and shellfish breeders & processors
Algae processors
Catering companies
Food retailers
Brewing & distilling
Industrial biotechnology companies or RTO's (e.g. bioprocessing, biofuel, bioenergy, biotransformation)
Chemical engineers
End-users: food industry, personal care, nutraceuticals, energy providers, pharma, green chemistry: biopolymers & chemicals, fine & speciality chemicals and animal feed companies.
Cost: £30; £70 with conference dinner (on 10th)
If you need assistance please check our FAQ guide. If you do not find the answer there please email: jean.phillips@biosciencektn.com or contact us on 01430 871549.